Bintan Golf Course
Just like Bali Island, Bintan Island is also known as a place which has a collection of international standard golf courses. The golf Bintan course also known for its challenging design with beautiful ocean view as the backdrop along with luxurious resort facilities.
The island where the city of Tanjung Pinang as the capital of Riau Islands Province is located, has a mainland area of 1319.51 square kilometers. This island also located in a strategic position that is on the southern peninsula of Malaysia. So, it is not surprising that most of the tourists who visit this place are coming from Malaysia, Singapore, Cambodia and Vietnam.
Beside relying on the tourism, Bintan Island people rely on agriculture sector as a daily livelihood. You can find 5 large reservoirs that serve as a raw water source for the community in the largest island in Riau Islands.
Along with the various nature and cultural attractions, the Bintan golf course becomes one of the tourist attractions here. Not to mention the condition of Bintan Island, which has an average daily temperature of 21-30 degrees Celsius and its tropical climate make the golfer can play golf here almost throughout the year.
When you visited Bintan Island, you are not only welcomed by the beautiful white sandy beach, but also the coral reef arrangement that adorns the shoreline. Even some of these rocks were scattered around the golf course.
Bintan Island ocean also very clear and natural so it is suitable for diving, snorkeling, surfing or kayaking. Most golf tourists here, not only enjoy the luxurious facilities of Bintan golf course, but also beautiful beach scenery such as at Trikora beach or Lagoi beach.
This island, which is only 45 minutes away by ferry from Singapore's harbor, has 3 famous golf courses. They are Ria Bintan Golf Club, Laguna Golf Bintan and Bintan Lagoon Golf Club. These three golf courses combine stunning views of the natural forest, rivers, hills and beaches with spectacular South China Sea as the backdrop.
The Bintan Lagoon Club golf course consists of two courses, the 6,443 meter Ian Baker-Finch Woodland Course and the 6,211 meters Jack Nicklaus Sea View Course. If these two courses are combined, it will make Bintan Lagoon Golf Club as the largest golf course on Bintan Island. The Bintan Lagoon Club is also the oldest golf course in Bintan, which built since 1996.
Meanwhile, Ria Bintan Golf Club has been considered to be one of the best golf courses in Southeast Asia due to its spectacular golf course design. The combination of natural forests, artificial lakes and rocks in both the Ocean Course and the Forest Course along with the challenging contour make this golf course becomes so special for the golfer.
If you want to enjoy a different atmosphere, you can play golf in Laguna Golf Bintan, which located in Sebong Laoi. This golf course has a backdrop of the former mining area, a row of Banyan trees around the golf course and situated near to the beach. So you can enjoy the beach sand and beach breeze here.
Golf course in Bintan offers various golf packages ranging from IDR. 1 million to IDR. 3 million. Each golf course also offers some interesting facilities, ranging from international standard luxurious resort facilities to shuttle service to and from the ferry terminal.
With its beautiful panoramic views and a variety of interesting facilities, it is not surprising that the Bintan golf courses are often used as a place for national and international golf tournaments and as an ideal holiday spot for the golfer.
Laguna Golf Bintan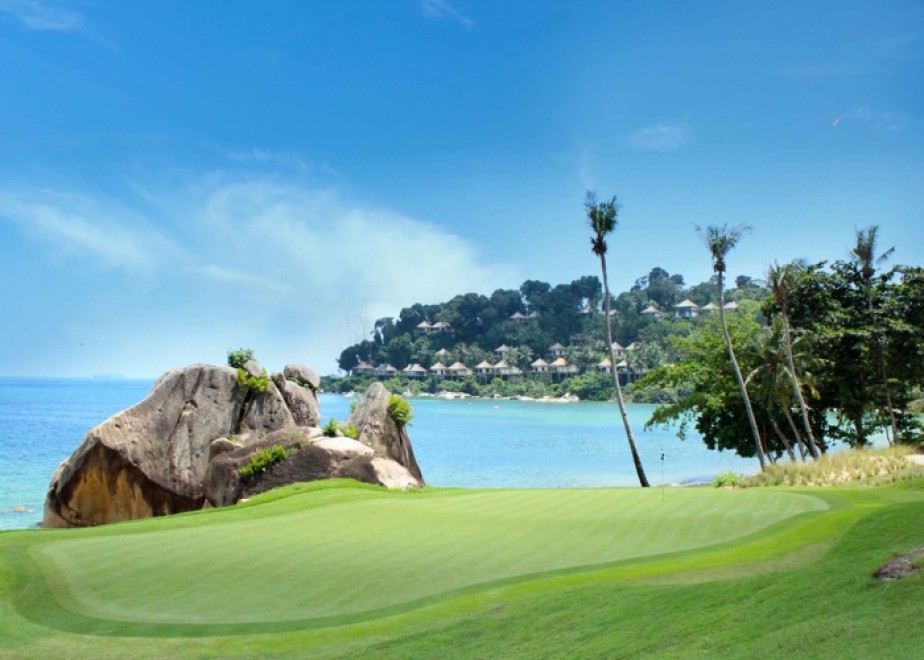 Good field quality
Accompanied by professional caddy
A wide range of different holes to test you
Laguna Golf Bintan Club becomes one of the golf courses in Bintan, which is famous for its sea view and its unique design. This golf course that designed by Greg Norman and refined by Paul Jensen has 18 holes and extends as far as 6,200 meters. The golf course landscape is designed with undulating contours combined with different height of grass, artificial water ponds and natural rock formation. The scenic view of sea and natural forest near the beach become the golf course backdrop. This golf course which located in Sebong Laoi, has the view of an ex-mining areas that are no longer operating along with a line of banyan trees around the golf course.